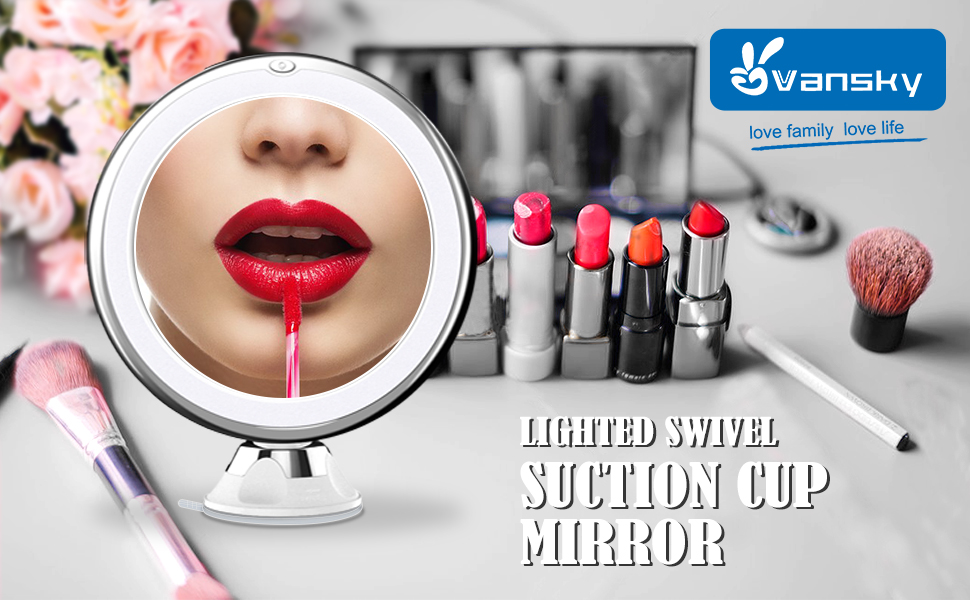 ---
Elegant Wall Mounted Swing Makeup Magnifying Mirror
Very stylish Makeup Mirror,it is designed to increase the level of elegance in your home.Great for purse and travel,use for eyebrow tweezing, makeup application and all grooming needs.
Vansky Cordless LED Lighted Vanity Mirror
Your daily prepping routine will never be the same after using Vansky LED makeup Mirror. Adjustable design features 1-touch technology to dim the 10 LED lights for perfect reflection illumination. Looks great on top of a dresser or vanity.
Provides extra light during your grooming routine and allows you to focus on a specific section of your face to achieve a professional finish;
Ideal for applying makeup and other beauty treatments that require more precision extra precision, such as applying contact lenses and eyebrow tweezing, precise tweezing, shaving, hair styling and facial care.
Suction cup Swivelling Cosmetic Makeup Magnifying Mirror
This handy and powerful 10x Magnifying Suction Mirror helps you see tiny details even without eyeglasses. Attach with suction cups or use it without.This mirror will ease your daily tasks in the bathroom, very easy to mount with the suction cup.
360°rotation helps to adjust to any desired angle or position; strong suction cup locks your mirror securely onto any clean, smooth, and flat, clean surface with ease; such as on a table, wall, window, and even a larger mirror.